Installing your home theatre
Magen installs your audio and video equipment, for any size home theatre installation. We want to be sure that everything is perfect to assure a total viewing and listening experience, whether you are using your system to watch movies or immersed in playing games.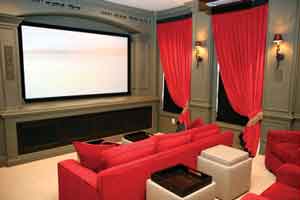 Even if you are a do-it-yourselfer, we wouldn't feel right about leaving you alone with the job. You spent a lot of money on this stuff and we want to be sure that you enjoy it. Whether your home theatre system consists of a TV screen or is projector based, installation is always more complicated and difficult than you thought.
Even deciding where exactly to locate the screen or projector, requires a lot of professional knowledge and experience. Attach it to the wall? To the ceiling? Are you sure that the wall or ceiling are strong enough to bear the weight? Are you familiar with the safety guidelines for installations? What should you install first: screen or projector? How do you align them? And what's this with lens alignment and offset? And if you were thinking of inverting the projector and mounting it on the ceiling, are you sure that it can be inverted? How much space to leave behind the screen to allow for tilt, or the projector to allow it to cool? What is the best kind of wall or ceiling mount to attach it? If you're thinking of enhancing your viewing room with style by using a lift to reveal and then hide the screen or projector, then you definitely need help with that. How to drop it down when you need it and to lift it back up to the ceiling to get it out of the way when not in use? And anyway, how do you get all that stuff up there, position it correctly and hold it in place while you're bolting it down? And what's with all the cables? Where do you hide them and how do you pull them without ruining them? And where do you get a tall enough ladder to climb on and to do all this work safely? Sounds complicated? It is! So why not call in Magen to do it right for you the first time, rather than going through all the aggravation and then calling us anyway?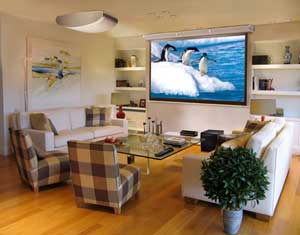 You don't want to be stuck with poor quality video. But if the entire setup is not properly aligned in all its aspects, that's what you'll have.
Magen can even set up a scenario so that a single tap on the button will reveal the screen from its hidden wall niche, drop down the projector from its ceiling recess, window drapes or shades will be closed automatically, the lights will dim, the appropriate audio volume will be set and the show will begin. Magen can design, program and carry out the entire installation for you.
Magen has the expertise and the experience required to locate, position and install all your audio video equipment. And we really don't mind the effort, so don't feel bad, while you're standing around watching us lift and position everything. Let Magen take the burden off your shoulders. And while we're at your place, we'll probably give you a few tips you never heard before, about how to handle and maintain the equipment.
We don't sell you an audio video system; At Magen we provide a total viewing experience and a space to delight the eye.
If you are considering installing an audio video system, contact Magen Audio and Video now. Let us review your plans and help you develop your ideas.