Whole house sound systems
If you're an audio buff or a serious music lover, you probably have a music room where you immerse yourself in the listening experience.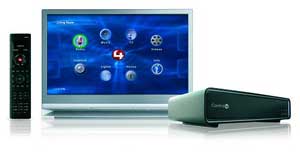 But what happens when you leave that room? The sound becomes weaker and soon fades away altogether. Why not enjoy music throughout the house? What if you want to play a CD in one room but in another room, someone wants to listen to a radio station? Why not let everyone enjoy the music that he or she likes best? Magen Audio and Video can set up your home for whole house sound and everyone can listen to the music of his or her choice.
Your whole house sound system can provide background music throughout the house, entertainment for gatherings and celebrations when you have guests, as well as quality sound for critical listening to music in your listening room. With digital media servers and network media hubs you can stream music stored on your computer's hard disk to any room. Let everyone hear music everywhere in and around your house, controlled by the touch of a button. Magen's whole house sound systems support audio distribution to as many as 32 separate rooms and zones. You can select radio stations, CDs or just the sound of the TV. And not only you, but everyone can make selections for their zone without leaving the room. Different music in each room, on the deck or around the pool. And it can all be controlled at the touch of a button. You can set it at a consistent volume in each room or if you like, you can change volume from where you sit or you can change the music according to the way your party is going. You can control your audio from your remote or touch screen and even switch sources remotely. And of course, the volume or source can be controlled from each room. If you want to go for really high end, you can have total source control, allowing you to control everything from every room, including both audio and video.
A sound system should serve its function but it should also be aesthetic or unobtrusive. It shouldn't negatively intrude upon the appearance of any room in which speakers are installed. A good sound system will never be noticed because everyone will hear everything "naturally" and will see nothing that offends the eye. Nothing need be visible but wall-mounted keypads and speakers, colour coordinated to complement your decor. Magen's distributed whole house audio installations are not only elegant but they also simplify operation of your audio system.
Magen can install speakers in walls or ceiling, under eaves on your deck, even disguised as rocks in your garden. Around the house, we can install in-wall speakers or in-ceilings and leave them flush so that you have that clean and neat look that interior decorators love. All the preamplifiers, distribution amplifiers and the source equipment (tuner, DVD players, DVRs, CD players, iPods, satellite tuners, etc.), are housed in a cabinet, hidden from view. The equipment is shared among the different zones, so you don't have to duplicate purchases. After installation, Magen tests all elements and the entire system and tunes and balances the sound system.
There are oodles of control options and sharing for each zone, so we may have to ask you a lot of questions to customize the system to your own lifestyle. We hope you don't mind. We want to be sure that you'll be completely satisfied and pleased with your system.
We don't sell you an audio video system; At Magen we provide a total viewing experience and a space to delight the eye.
Contact Magen
If you are considering installing an audio video system, contact Magen Audio and Video now. Let us review your plans and help you develop your ideas.