Home theatre projectors
Projectors are ideal for home theatres. They reproduce the movie experience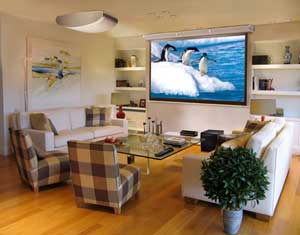 more fully than any TV screen. With a projector, you are inside the movie theatre, not just in front of a screen. Projectors are capable of interacting with inputs from various and multiple sources. They are also versatile enough to adapt to an array of room and light conditions. Even a small room with imperfect lighting is not an obstacle to the home theatre experience. Brilliant, high-definition pictures can be enjoyed in your own home with a projector. With a projector configuration in your viewing room and a surround sound system, the picture, the voice and the music combine to create a rich and thrilling experience.
The three main projector technologies are CRT (Cathode Ray Tube), DLP (Digital Light Processing) and LCD (Liquid Crystal Display). If you're really curious about the difference between LCD and DLP, we offer a short discussion below. Another technology, LCoS (Liquid Crystal on Silicon) is now reaching the market. LCoS has the best features of the others and none of the disadvantages. It is, however, somewhat more expensive. In choosing your projector you have to consider numerous variables such as brightness, contrast ratio, pixel density, colour reproduction, input sources and price. Besides projector cost you should be aware of bulb life. Bulbs need to be changed after 1,500 to 3,000 hours of projection and are pretty costly, depending on the type of projector. So you want to choose the type of projector that's right for your home and viewing choices and not necessarily the one that has the most options.
Magen can help you choose the projector type that is right for you and most appropriate to your needs, according to the size of the room, how much ambient light there is in the room, your brightness requirements, how vivid the colours should be and how large an image you need. Magen offers a wide variety of projectors to meet your viewing needs. And we help you analyze what those needs are so you get the exactly the projector that fits your needs.
Magen installs and aligns your projector with the screen. We advise you on positioning with regards to viewing and lighting conditions and to possible obstructions. Mounting can be on ceiling or wall. To create an aesthetic screening room, the projector can be built into the wall or ceiling. Movement may be motorized or manual. With motorized movement allowing up/down action, the projector can be dropped from a hidden recess in the ceiling and after the show can be raised and replaced there. The accompanying screen can also be motorized for positioning and concealment. Motorized movement adds drama to your screening room and impresses your guests.
Magen handles the ENTIRE projector and screen installation process for you.
We can even set up a scenario so that a single tap on the button will reveal the screen from its hidden wall niche, drop down the projector from its ceiling recess, window drapes or shades will be closed automatically, the lights will dim, the appropriate audio volume will be set and the show will begin. Magen can design, program and carry out the entire installation.
We don't sell you an audio video system; At Magen we provide a total viewing experience and a space to delight the eye.
Contact Magen
If you are considering installing an audio video system, contact Magen Audio and Video now. Let us review your plans and help you develop your ideas.
LCD and DLP Technology
LCD (Liquid Crystal Display) projection is done by means of three LCD glass panels, one for each of the colours: red, green and blue. When light passes through the LCD panels, individual pixels open or close to allow light to pass or to prevent it from passing through. In this way, the light produces the coloured image projected onto the screen.
DLP (Digital Light Processing) technology was developed by Texas Instruments. DLP consists of a chip whose surface contains thousands of tiny mirrors. Each mirror represents a single pixel. In a DLP projector, light is directed toward the surface of the chip. The mirrors move back and forth, directing light towards the lens to turn the pixel on, or away to turn it off. In most DLP projectors there is a single chip along with a colour wheel containing colour filters. As the wheel, located between the lamp and the DLP chip, spins, the colour of the light reaching the chip alternates from red to green to blue. The mirrors tilt away from lens or towards it according to the colours of the image. In this way, the light produces the coloured image projected onto the screen.
Advantages of LCD
LCD (usually) delivers better colour saturation than DLP
LCD images are (usually) sharper than DLP
LCD is (usually) more light-efficient than DLP
Drawbacks of LCD
LCD (occasionally) suffers from the "screen door effect": Images appear as if viewed through a screen door.
LCD (usually) does not produce satisfactory black levels and contrast
Advantages of DLP
DLP projectors are (usually) lighter and more compact than LCD
DLP produces higher contrast with deeper blacks than LCD projector
DLP projections (usually) have lower pixelation
Drawbacks of DLP
The DLP colour wheel (occasionally) produces a "rainbow effect" when the colours separate to their component colours, that is red, green and blue.