A Theatre in your kitchen
Don't let kitchen time detract from TV viewing time. Especially now that so many of the TV programs originate in kitchens around the country. With your breakfast bar or island, your kitchen is a small
café. That's where the kids take their breakfast and you do casual eating or relax with a coffee and the morning paper. Or would you prefer to watch the news on your TV? Or your favourite cooking show? Are you addicted to a soap? With a kitchen TV you will discover how useful it is for checking on weather and road conditions before setting out to take the kids to school, or to see what's going on in the yard and driveway as it monitors your surveillance cameras. You can keep an eye on the goings on around the pool while fixing dinner, or catch the trash man if he leaves the recycle box behind. The kitchen is the only room you use in the morning. Well, OK, so you use the bathroom too. We'll get around to that one later.
Don't settle for a hand-me-down screen that became available because you just replaced the one in the entertainment centre. Get yourself a flat-screen, quality TV, because you probably spend more time in your kitchen than in any other room. And because you move around in the kitchen, set it on a flip down swivel mount that also allows for tilt so that you can watch from any angle. Besides the great convenience, your kitchen TV on a smart mount will give your kitchen a contemporary look that will make you so proud you will want to show to it off. So why not turn your kitchen into an active viewing room, where you can move around as you watch rather than just sitting idly.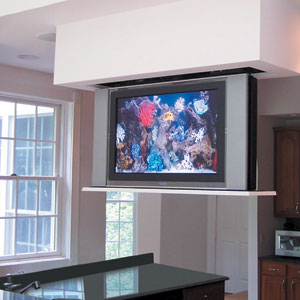 To complete your kitchen theatre, you should have built-In speakers recessed and set flush with your walls or ceiling. They will give you high quality sound for listening enjoyment and will leave your kitchen area free of unnecessary encumbrances and with a clean and neat look that will be the pride of your home decorator.
Magen will mount and install the TV and speakers in your kitchen and do all the cabling and the wall jacks for your satellite and other sources. When we're finished, your kitchen will be your favourite room. You'll never want to leave the kitchen again.
We don't sell you an audio video system; At Magen we provide a total viewing experience and a space to delight the eye.
Contact Magen
If you are considering installing an audio video system, contact Magen Audio and Video now. Let us review your plans and help you develop your ideas.