A Theatre in your home
Make your viewing room the envy of your friends. You're spending a lot on all this great equipment, why not show it off in all its beauty?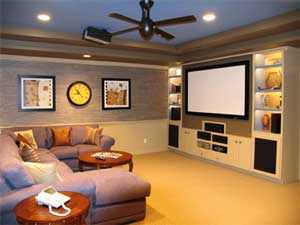 Usher your guests in and savour their admiration of your style and panache. And when they see the screen slide out of its wall recess while the lights dim and then sense the sound surrounding them, enjoy their gasps as they're dazzled by all this.
Magen will advise you on the layout and design of your viewing room. We will show you how to set it up for best viewing. Where to place the screen, so that it will be neither too high nor too low and perfectly centred, allowing comfortable viewing without neck stretching: where to locate the speakers for quality sound; and if you go for a projector, where to place it on the ceiling or wall so that it is perfectly aligned with the screen. And if you want us to work with your interior decorator on the design, we'd love to.
But Magen doesn't just suggest placement. Magen does all the mounting and installation for you, so you are assured of perfect alignment in all axes. You won't suffer any image aberrations due to misalignment. And your guests won't have to wrench their necks to get a good view of the screen. We'll also calibrate your speakers to assure that you enjoy the best sound that they can produce.
What's more, our installations go beyond perfect alignment. We want you to be pleased and even delighted by the appearance and visible impact of your viewing room. In-wall speakers positioned for perfect sound as well as hidden from view to leave your room with a clean and elegant look. Screens hidden from view in wall niches or in ceiling recesses until revealed by a tap on your remote. And do you have any idea how much cabling all this involves? Magen knows how to hide all that stuff from view. To complete the viewing experience, Magen will install lighting controls and even motorized window treatments to provide your viewing room with the ideal lighting conditions.
We don't sell you an audio video system; At Magen we provide a total viewing experience and a space to delight the eye.
Contact Magen
If you are considering installing an audio video system, contact Magen Audio and Video now. Let us review your plans and help you develop your ideas.