Display Systems
A variety of displays applying different technologies are available for use in a corporate environment for purposes of marketing, for training and for boardroom presentations. Below we describe the three main systems currently in use.
The choice depends on your specific needs and the environment in which they will be used. Magen can help you select the operating system that is best for your installation.
Plasma Electronic Displays
Plasma screens consist of red, green and blue phosphors sandwiched between two layers of glass. Electric pulses sent to the gas make it glow, producing the colour information and light. Because all the pixels react at the same time, no flicker is ever apparent to the viewer.

Plasma has high contrast, excellent resolution and is extremely bright. A Plasma screen is so bright that it can be seen clearly even in a well lit room. It can be used in rooms with windows and in training classes which must remain fully lit. Plasma produces a warm, bright, sharp and colour-rich image. In multiple arrangements Plasma screens are especially eye catching and striking. Plasma is ideal for informing and entertaining viewers. Plasma has a life of around 100,000 hrs. (according to the manufacturers). Maximum Plasma screen size is currently 103". Electricity consumption rises with screen size and is higher than that of LCD.
Advantages of Plasma
Excellent contrast ratios
Excellent colour reproduction
Bright projections even when ambient light is high
Very sharp images
Long life expectancy
Excellent viewing angle
Largest panel size among the relevant technologies
Ultra thin
Rugged technology: each pixel is an independent light emitting structures
Plasma is suitable for applications in boardrooms and presentation rooms of all sizes. Possible applications include:
Control room displays
Security monitors
Evacuation systems
Presentations
Announcements and Public messages
Information to clients and visitors
Information to employees
Directing patrons to conference room locations
Interactive touch screens of building plans located at strategic locations
Effective and easy to operate software permit you to change messages rapidly. Live data can be integrated and displayed on Plasma screens.

Plasma may be used in signage display systems consisting of both interactive and non-interactive displays and may be integrated with systems using other types of electronic displays. Data for all screens may come from a single source via cables. The system can be managed over the Internet to allow for remote content revisions and updates and to change schedules, all from a single central source. Pre-recorded information to customers and employees may be provided to inform or entertain or both.
LCD Electronic Displays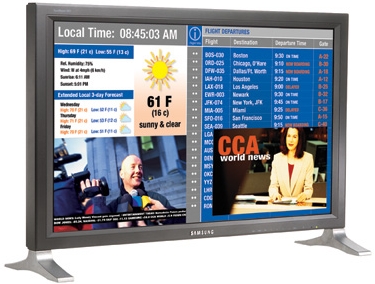 LCD (Liquid Crystal Diode) technology is what runs most of the screens on laptop computers. In LCDs, a flourescent backlight sends light through its liquid crystal molecules and a polarizing substrate. LCDs are very sharp, offer good colour, are long lived (60,000 to 100,000 hours) and consume very little power. They are thin and lightweight. They are also free of burn-in. LCDs are available as touch screens for use in interactive applications. Maximum screen size is currently 90". LCD electricity consumption rises with screen size, but consumes less power than a similar sized plasma screen. If your display is always on, LCD is an excellent choice.
LCDs are suitable for a large variety of display needs
Multimedia presentations at conferences, meetings and in training classes
Presentations in executive boardrooms
Home theatre systems
Promotion of services in banks and other financial institutions
Information in theatres, museums, universities, religious organizations and other institutions
Information and directions in hospitals and other health services
Control room and command centre applications in water and electrical power distribution allowing plant operators to view network conditions and to take action before serious problems arise
LCD's may be used in signage display systems consisting of both interactive and non-interactive displays and may be included in systems using other types of electronic displays. Monitors may be located to inform employees of special campaigns and activities, other displays may advise on conference room locations. Interactive touch screens of building plans may be provided at different locations. Data for all screens may come from a single source via cables. The system can be managed over the Internet to allow for remote content revisions and updates and to change schedules, all from a single central source. Pre-recorded information to customers and employees, may be provided to inform or entertain or both.

Go Top
Choosing the Screen that is best for your needs
Magen can help you decide which display is right for you. We will help you determine the size of your installation, the best placement and positions for your electronic displays, with regards to lighting and other environmental features of your facility, as well as in relation to the location of your target audience. We can help you select the operating system that is best for your installation.
Magen's expertise will allow you to exploit your electronic display system most effectively and to maximize benefits