Home theatre surround sound systems
Your home theatre is only as good as your sound system. You want to match the high quality visual image with high-quality sound. With a quality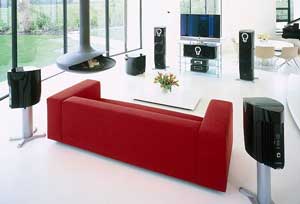 surround sound system you have the feeling of being right there in the middle of the action. You naturally also want the home theatre sound to be perfect: it should be a clean and clear sound allowing all your guests, regardless of where they are seated, to hear every word or to get the full enjoyment of the music. It's the surround sound that creates the excitement in watching a movie in your home theatre. With surround sound, you are there inside the movie.
Magen's home theatre creates a surround sound effect using a multi-channel configuration of speakers. The surround sound processor separates the various components of the sound track and disperses them to different speakers strategically located around the room, to give you the effect of hearing sound from different places. Voices appear to come from the video screen, while sound effects appear to come from behind. You want to hear the sound without any tonal or spatial discontinuity. The sound from different speakers has to reach every listener's ears at exactly the same time. Good sound quality is crucial to creating a complete theatre experience. You want to be able to hear the action from The Lord of the Rings (or whatever movie you're watching) in all its power. All elements of the sound system - the hardware chosen and its placement - contribute to its performance and to your listening experience. The positions and locations of the speakers are critical to full enjoyment of your home theatre. Magen professionals help you choose the receivers and speakers that meet your needs and determine the best placement for them to achieve the full impact of the surround sounds.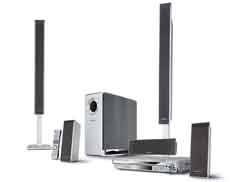 Your home theatre surround sound provides the ideal environment and atmosphere for the excitement of electronic games. With surround sound you are entirely immersed in the game with the sounds coming at you from all sides. A player feels himself inside the game. You need surround sound if anyone in your family is a gamer.
The sound system should also be aesthetic or unobtrusive. It should not negatively intrude upon the appearance of the home theatre. A good sound system will never be noticed because everyone will hear everything "naturally" and will see nothing that offends the eye. After installation, Magen tests all elements and the entire system and tunes and balances the sound system to ensure that every sound is reproduced at the appropriate volume and to assure an enveloping surround sound.
We don't sell you an audio video system; At Magen we provide a total viewing experience and a space to delight the eye.
Contact Magen
If you are considering installing an audio video system, contact Magen Audio and Video now. Let us review your plans and help you develop your ideas.